Return to Overview
animal rights milk
from New Zealand cow-free milk powder. Today's flavor: Filipino Purple Yam
Bali style satay chicken
plant-based meat made at a partner factory in California and sautéed in Fiji coconut sauce
favorite idol vegetables
Frozen broccoli, carrot and string beans from chinese drama stars
Coffee Jelly
Organic Fair Trade Coffee Beans from Congo
Spicy Korean fish soup
Tilapia from an ethical aquaculture farm in Brazil.
Canadian smart Tofu
produced on human labor-free smart partner farms
Russian Green Onion
produced on human labor-free smart partner farms
Thai rice
School District directly imports rice from a partner farm in Thailand through Carbon Credit Scheme
Return to Overview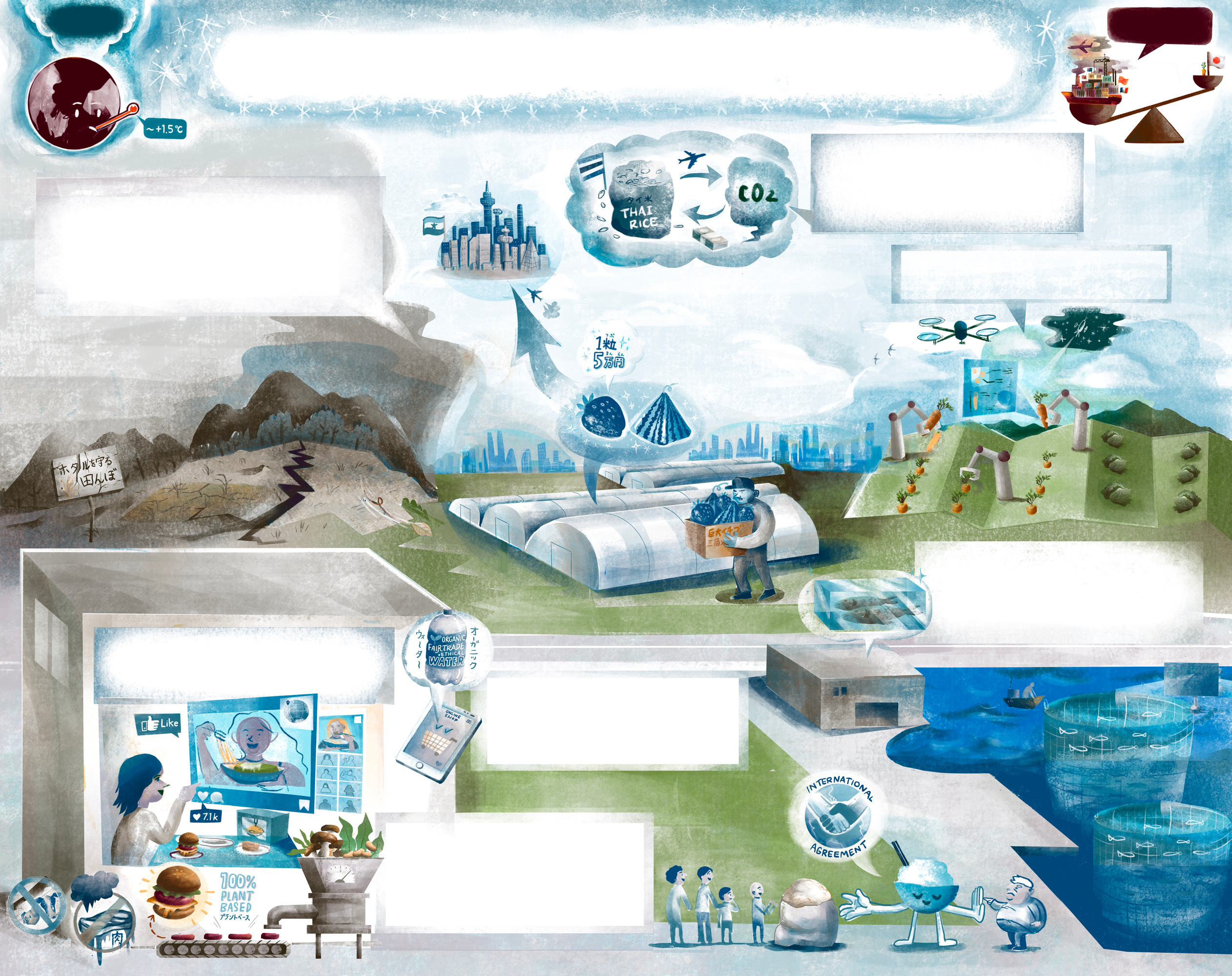 High-end fruits (e.g. triangle melon, giant strawberry, etc.) are produced for export to high income Asian and African megacities. Barring places with few specialized producers, rural farming communities are left abandoned, leading to a loss in biodiversity and culture.
Influencers introduce new food trends from different parts of the world, diversifying diets and moving farther away from seasonal food choices.
International trade agreements secure the basic nutritional needs and proteins are replaced by fungi-, algae-, and plant-based 'meats' & 'milks', which causes Japanese domestic food production (rice, wheat, sugar, dairy, beef, pork, many vegetables) to fall, and family farms are forced to close their operations.
Similarly coastal fisheries have been fully replaced by aquaculture or pelagic fisheries using high-tech to reduce labor intensity and environmental impacts. To increase supply chain efficiency, the catch is processed, frozen and distributed immediately offering consumers mainly fillets and blocks.
Ethical consumption grows, leading to the purchase of more certified products (e.g. fair trade, organic, etc.) based on direct online/SNS relations between consumers & producers.